How to write a scholarship essay?
All winning scholarship essays follow the instructions provided and never miss any requirement. Before you start writing an essay, it is important that you read the complete instructions and understand them thoroughly.
As you read the instructions, you need to outline your essay writing process and gather vital details. You can choose the topic you need to cover, the formatting requirements, time duration provided, total word counts, the different sourcing requirements. You need to ensure to follow these instructions promptly and avoid rejection of your scholarship essay.
After you complete these initial steps, you can start writing your scholarship essay. The following guide gives you detailed steps on how to write a scholarship essay and get your desired awards.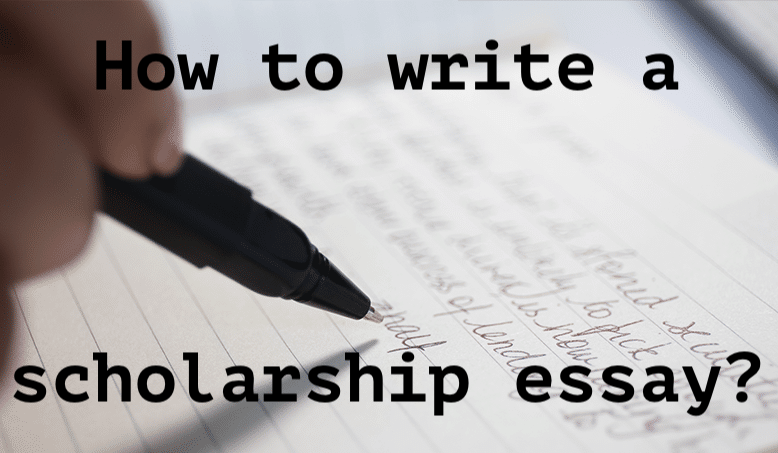 1. Define the audience.
You need to know about your audience, who read your essay. Your scholarship essay is read by a group of admission committees whom you might have not seen at all. They are just humans who also have a challenging task to decide on whom to award the scholarship. They have their own passion, goals, and dreams aligned with the growth of the organization they work.
Your essay should appeal to these views of the audience apart from providing a general idea about yourself and your aspirations to study. Your essay should leave an impression on you that excites them and remember you.
2. Brainstorm the ideas.
Brainstorming different ideas for a few minutes on your essay topics can make a huge difference to write a great scholarship essay. You need to list down every topic and ideas on a piece of paper during your brainstorming sessions. You can also add applicable examples to each idea you identify.
You need to organize your thoughts and identify ideas that precisely align with your essay topic. You can cherry-pick those ideas that best suit your essay and excite the admission committee.
3. Pick up the right topic.
You need to pick up a topic that excites the admission committee. It needs to provoke enthusiasm and trigger their interest to read your entire essay without any burden. This also makes your essay satisfy their prompt and eager which enhances its chance to win the scholarship.
Your topic should be centered around core values that create a connection between the content of your essay and your future. Your topic should be based on any personal experience, goals, and skills.
You should never select a topic that gets you bored as it makes your reader get bored as well. Your topics need to show your passion and desire for the best or something that is easier for you to write with passion and creativity.
4. Structure of the scholarship essay.
A winning scholarship essay is always well structured and neatly represented to the readers. You need to create a solid outline of the essay that helps you to structure your essay for easy reading and step by step leading to end.
A winning essay needs to have the following sections. You can add more sections as per your requirement.
Begin your scholarship essay with a brief introduction to the essay. It should start with a hook statement that grabs your reader's attention and lead the essay. It should be followed by a short explanation about what is being discussed in the essay. You can add a short story, a question or any statistics that grabs the attention and relates to the rest of the sections of the essay.
You should divide your essay body in to various sections or paragraphs. Each section should discuss a single idea and never deviate from the idea. These sections need to relate to your essay topic. You can drive a point in your essay using a short story or an example. This makes the essay interesting to read and also helps the reader to understand it better.
Your sections or paragraph should be arranged in a particular order that promotes readability and follows a logical sequence. Between each paragraph, you need to write high quality and smooth transitions that lead to the next paragraph.
It is very important to conclude the essay with a final paragraph. The conclusion should summarise the points discussed in the essay. It should also explain why you are the best qualified for the scholarship.
You can end the essay with any words of appreciation or with a simple open-ended statement that leaves your readers to get interested in you. You could also address the school board with any view related to your intention to study or your interest in their curriculum. Ensure to end your essay with a firm conclusion that impresses your college board.
Edit and revise the final draft.
After you complete writing your essay, you need to review and correct any errors in spelling, punctuation, and grammar. Your essay should be free from any content of copyright infringement.
You can also take help of your friends or teachers to proofread your essay. They provide valuable suggestions and changes that further improve your essay.
One of the primary reasons for the rejection of scholarship is not following the instructions of the assignment. You could also take the help of professional writers who have the expertise and experience of how to write a scholarship essay.